Glue Pulling Dents Out Of Cars With Paintless Dent Repair
One of the methods of paintless dent repair is the technique of glue pulling dents out of cars. This process uses many different kinds of special products that include glue tabs, hot glue, dent lifter, and other pulling devices to take out dents from the metal panels of a car.
You can watch several of the videos showing how we use Glue Pulling to Remove Dents
The method of glue pull dent repair is not how the original method of paintless dent removal started. The most common way that paintless dent repair is used is with metal rods to push out the dents and damage from inside the panel. You can see more about the PDR process in this article. https://www.exceldentremoval.com/how-is-paintless-dent-repair-done/
How Glue Pull Dent Repair Started
The use of glue tabs and glue to pull out dents didn't start until the early 2000s. This process was started by the auto body repair supply company Wurth in Germany. They designed some dent removal tools that can be used in the auto body repair process to help pull out damage and dents. This dent repair kit was never intended to be used to just pop out dents from car body panels. The idea was to minimize the damage caused by traditional repair that used to drill holes or weld a stud to the car and then pull out the dents. Then additional body repairs were still needed to finish the repair. Then after that, the panel was primed and painted.
Often when repairing hail damage to vehicles, before the glue pull PDR was around, there were areas on the car that were not accessible with PDR tools to push out the dents. If the repair could not be done then the car would have to have conventional repair and a new paint job. This would limit what the PDR tech could do on the car and could leave many areas that paintless dent repair couldn't fix.
So, when this glue pulling dent removal kit was brought over to the USA and offered to the autobody repair shops, they didn't see a need for it. But the paintless dent repair companies noticed that this would help pull out those small hail dents and save the car from being painted.
While the basic idea of pulling out the dents at that time is still similar to today, the tools were very basic. The glue tabs often didn't work for every dent. Since they were designed for auto repair and not small dents, they would need to be modified for use with paintless repairs.
There was only one type of hot glue used for pulling and it had a very specific temperature where it would work. There also wasn't a good release agent to remove the glue leaving it a difficult process to get the glue off the car.
That original Wurth dent puller kits were used for many years in the paintless dent repair industry before the PDR techs and tool companies started to design better products including glue tabs, hot glue, glue pulling tools, and advanced techniques to better repair dents.
These professional PDR glue pulling tools can cost hundreds or thousands of dollars and there are now many different specialized tools for all kinds of damages. Many techs can have thousands of dollars invested in their PDR glue tools.
What About Those Cheap Glue Pulling Kits Online?
You won't find many professional PDR companies that will use the cheap online glue pulling kits in their repairs.
With the advancement of these professional PDR glue pull tools and what appeared to make it an easy way to remove dents from cars, other companies started making cheap glue kits. A couple of these glue pull kits were first offered in auto parts stores and now there are many different ones you can find online for purchase.

The inexpensive kits have just a few of the basic PDR tools included to pull dents. The tabs, glue, and puller often don't work, and when they do they can only repair very small soft dents or might be able to achieve only a partial repair.
The reason these glue pulling kits may not work for you is because of the skill and training needed to produce high-quality professional results. There is more to removing a dent than just popping it out. Plus, all dents are not the same. Many can be creased or have deep damage that these glue tabs and glue will not properly stick to in order to pull out the dent.
One thing that you will need to watch out for when using this dent pulling method is the condition of the paint. While it will often work well with original factory car paint, there is always the risk of pulling the paint off the car. It is more likely if the car has been repainted.
If you choose to purchase one of the PDR glue kits since the initial expense of them is quite low and you want to attempt to make the dent repair yourself. Just know the risks involved and if you are wanting the best paintless dent repair for your car, then you'll want to look for a dent removal company near you for the repair.
You can view some of the PDR Glue Pulling tools available over on my Amazon Shop https://www.amazon.com/shop/
Some links may be affiliate links. As an Amazon Associate I earn from qualifying purchases. You won't pay more for using them, but I may receive compensation for the referral. If you found this article and links helpful, then I appreciate it.
Cold Glue Dent Pulling Versus Pulling Dents With Hot Glue
Just in the past several years, there has been a new technique being used to pull dents. This is what is referred to as Cold Glue. This new glue is given its name because it is often used "cold" and is not being used with a hot glue gun. 
The Cold Glue is a sticky type of material that is used with a slide hammer dent puller and special tabs to hold the glue. When used properly this glue is able to have good adhesion to the panel but does not stay or "stick" on the car like regular hot glue.
Most often the cold glue is used to remove soft larger dents in order to minimize the dent repair needed with regular PDR tools. This is because it is able to just softly pull out parts of the dent without over pulling in other areas. This is the advantage of using this instead of hot glue which takes extra time to cool before pulling, time to clean off the glue, and the risk of causing more damage from over pulling.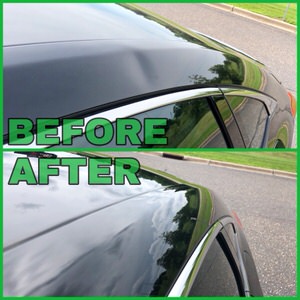 Will Glue Pulling Be Used To Remove The Dents In My Car?
When you bring in your vehicle for an inspection of the dent or damages, your PDR estimator will determine the best method needed. They will evaluate all necessary procedures to remove the dent. These will include any access needed behind the panel for pushing out the dent and if they are unable to gain access, then they can determine if a full or partial repair using glue will be used.
Since extra time and materials are used for glue pulling, there can be extra costs added to your estimate for this method. These often can be a percentage added to the regular labor cost of PDR and/or materials cost.