How Is Auto Hail Damage Repair Done With Paintless Dent Removal
You just got an alert on your phone that a severe thunderstorm is approaching your area. The storm is bringing with it strong winds, a possible tornado, and some large damaging hail. But your car is stuck outside and there is nowhere to get it covered before the hail starts falling. 
You get yourself to a safe place to wait out the hail storm and hope that it will miss your location and your car will be saved from the large hailstones. Now that the storm is cleared you are able to go outside to see if your car has survived and at first sight, it doesn't look like there is any damage. You now feel relieved that you've been saved. 
The next day you decide to wash your car wanting to get it looking great again but as you are drying it off you start to notice a few small dents that weren't there before. You continue cleaning the car and are beginning to see even more marks and you realize that your car did suffer hail damage.
Do You Need Your Car Repaired? Contact Us Today For A Hail Damage Inspection Appointment
How To Repair Hail Damage On A Car With Paintless Dent Removal
In order to properly fix all the minor hail damage to a car, it all starts with a thorough inspection of the damage. This starts with a clean car to better be able to see all the dents that are all over the vehicle. 
When you bring your car into a dent repair shop, a special light or reflection board will be used to find every dent that is on each panel. Sometimes a special paint marker will also be used to circle each dent so they can better be seen in a photo. This also helps to know the exact amount of the dent count. 
One of the most common methods used to do paintless dent repair for hail damage is by pushing the dents out from inside the panel. To gain the access needed for this, many interior panels and exterior parts will need to be removed. 
Many of the parts and body panels that need to be removed may include:
Headlights

Taillights

Hood insulator

Hood panel

Truck insulator

Trunk lid

Front and/or rear bumpers

Headliner

Sunroof assembly

Antenna

Inner door panels
Depending on how severe the hail damage is and if there are any other damaged auto body parts that would need to be replaced there could be more items that will need to be removed. 
For more info about how a vehicle headliner is removed for hail damage repair, check out this video. https://youtu.be/xaMYqpuOivI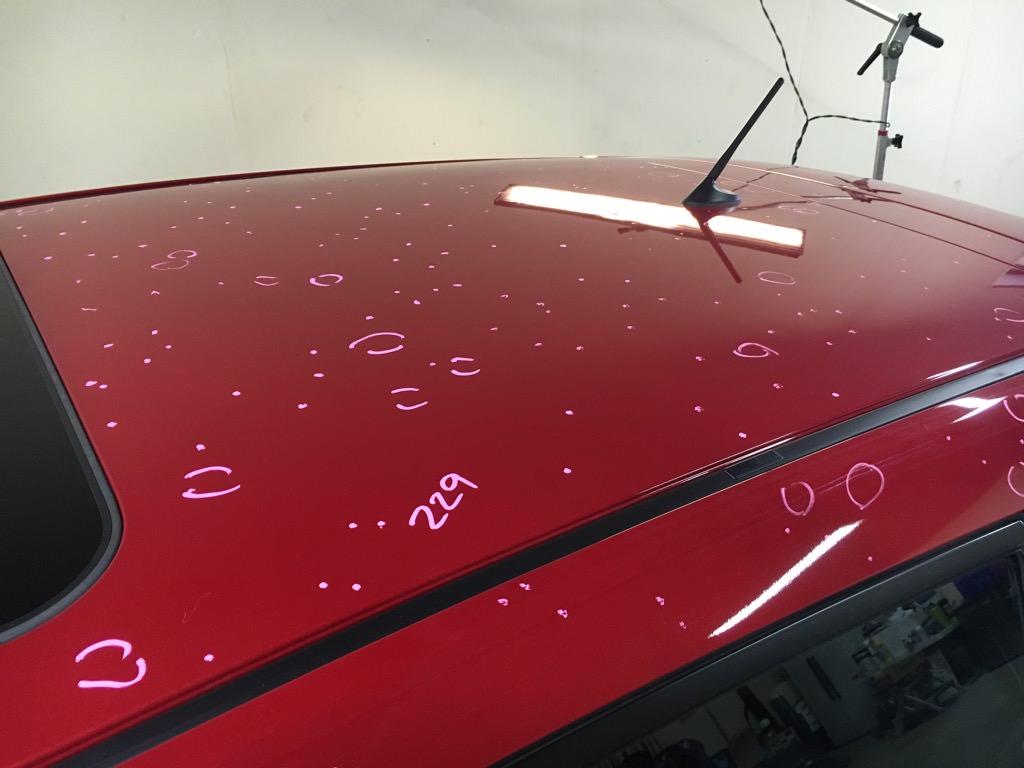 The 3 Methods of Paintless Dent Repair Used for Hail Damage
The dent repair process a professional Paintless Dent Repair technician will use when repairing hail dents are:
Pushing out the dent from the back of the panel

Glue pulling out the dents from outside the panel

Knocking down or bending the metal back from outside the panel
Pushing Out The Dents
When there are hundreds of small dents all over your vehicle the best and most efficient way to remove them is by pushing out the dents. This method of paintless dent repair involves using special PDR tools. Most dent removal technicians will have thousands of dollars worth of these tools. The specialized tools include metal rods, sharp picks, small hand tools, and a variety of custom-made tools. 
The technician will then take these tools and apply gentle slow pressure and small micro pushes to the backside of the panel and under the dent. By using this slow repair process the tech is able to remove the dent cleanly and without any further damage to the panel or the outer painted surface. 
Glue Pulling Out Hail Dents
In the process of dent repair for hail damage, there are many areas that there is limited or no access to the back of the panel. This can be due to obstructions or additional reinforcement to certain structural parts of the car. 
In these areas is where glue pulling out the dents is used. A PDR tech can have hundreds or thousands of dollars of specialized glue pulling equipment. These glue tools included a variety of special glue tabs, custom glue guns, specialized glue, several different pulling tools, and a release agent.
This method of glue pulling takes the unique PDR glue that is designed just for cars. A small amount of glue is added to the PDR tab and then stuck to the center of the dent. After giving a few seconds or longer to cool and adhere to the panel, one of the dent pulling tools will be used to gently pull up the dent. If the glue is still stuck to the car, then a release agent will be used to remove it. 
The process of glue pulling up the dent doesn't result in just one try. Often the process has to be done several times to get the dent out. Most times the dented area will be left higher and knocking back down this high spot is needed. I'll be sharing this next. 
Knocking Down and Blending the Dents
When working on a car with hail damage there are a couple of reasons why knocking down and blending is needed. This is something that takes the skill of a highly trained Paintless dent tech to do correctly. 
Whether it's the repair process of pushing out the dent or glue pulling, knocking down any high spots or having to shape the metal from the outside will often be needed. Many techs will have several different types of knockdowns and tips they will use. These tools are designed to not cause any damage to the outside painted surface. The method of knocking down takes this tool and places the tip in the exact spot needed. Then by hitting it with a hammer with a light tap or several taps, it will slowly push the metal back down. 
Blending is another form used for dent repairs. This specialized technique is something that takes skill and practice to perform precisely. Special blending hammers are used for this technique. Blending is a form of knocking down but also uses the vibrations that happen when the metal is struck to move the metal back down or into the center of the dent. 
Where To Have Auto Hail Damage Repair Car Fixed 
Now that you know how paintless dent removal is done for hail damage and you want to know where a paintless dent repair shop near me is to remove your dents. 
You can find us with our Excel Dent Removal location based in the Minneapolis and St Paul Minnesota area. Our PDR technicians have over 20 years of specialized Paintless Dent Repair experience removing all kinds of dents from hail and just about every kind of car. You can trust that we will provide you with an excellent experience throughout the whole process. 
For more information or to schedule an appointment to have our staff provide you with a hail damage repair inspection, you can find our contact info here at https://www.exceldentremoval.com/contact/ or just call us at (763) 780-4000. 
We look forward to helping you get your car back better than it was before the storm.