Does Car Insurance Cover Hail Damage
A severe storm has just gone through your town bringing with it wind and some large hailstones. Unfortunately, your car was outside and this storm left hail damage dents all over your car. 
Now you're wondering if it's going to cost thousands of dollars to fix your car, how will you pay for it, and does car insurance cover hail damage repair?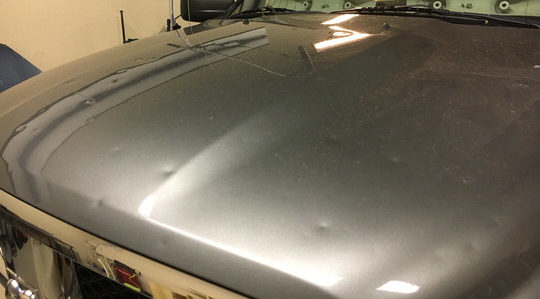 5 Tips You Need To Know About Your Hail Damage Claim
What Part of Auto Insurance Covers Hail Damage 
Before your car is damaged in a hail storm, you'll want to be sure that you have full coverage insurance on your vehicle. Full Coverage insurance covers both collision and comprehensive damages.

The part of your auto insurance policy that covers hail damage is comprehensive coverage. Comprehensive car insurance covers damage to your car from a hail storm along with these other damages.
Wind

Hail

Collision with animals

Natural disasters

Theft and Vandalism

Fire

Floods

Falling objects
Often you will have a deductible that you will need to pay first for the repairs and then your insurance will cover the rest of the cost of the repairs. According to Allstate ( https://www.allstate.com/tr/car-insurance/hail-damage.aspx ) you will want to check your policy to see what your deductible is and if you can change the amount you will owe.
The average amount insurance will pay for your hail damage claim is $3000-$6000.
How Much Does Insurance Pay For Hail Damage
Now that you have a hail damage car insurance claim, you'll be wondering how much does insurance pay for hail damage repair for all those dents to your car.
There are many different types of hail storms and they all will produce different damage to your car. You can have some very light damage with only a few dents around your car up to severe damage with hundreds of dents or many large hail dents covering the panels of your vehicle.
On an average scale of 1-10 with 1 being light damage and 10 being severe you can expect the average cost of paintless dent repair for hail to be around $1000 for each degree of severity. For example, light damage and a 1 would be around $1000. Then on the high end of 10 with severe damage, the cost could be around $10,000.
The average amount that insurance will pay for your hail claim could be from $3000-$6000.
There are many factors that will go into the amount that it can cost to repair your car with PDR, so these repair costs are just the average. There is also very severe damage from hail that can cause the cost to repair your car to be well over the $10,000 amount. This will be because of needing to use an auto body shop to replace the panels, repair the dents, and paint the vehicle. This usually will also require glass replacement from the hail damage.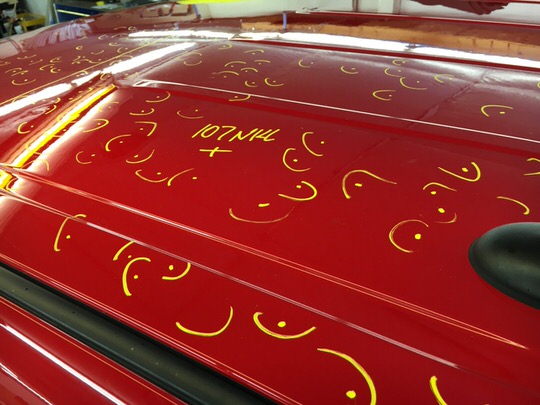 Can You Claim Hail Damage Twice
There are several reasons why you should not wait to get the hail damage repaired on your car.
Diminished value

Lower trade-in value

Lower sale value

Additional collision or accident damages

Additional storm or hail damages

Limited Insurance coverage

Additional damages can cause a total loss
 As you can see it is important to get your car fixed as soon as possible. According to Esurance ( https://www.esurance.com/info/car/does-car-insurance-cover-hail-damage ) they stress that getting your hail damage repaired is important because "Even just a couple of blemishes can decrease your car's appraisal value from "fair" to "poor."
You also don't want to be stuck in a situation where you are caught in another hail storm causing more dents and damage to your car. This can cause problems with your hail damage insurance claim and you might be wondering if you can claim hail damage twice.
Making a second claim for the hail damage to your car can cause several issues. One, according to American Family Insurance ( https://www.amfam.com/resources/articles/on-the-road/does-insurance-cover-hail-damage-to-cars ) is they could deny the claim. Another issue could be that the insurance adjuster will have to determine the damage from the first and second storm. Plus you could end up having to pay a second deductible, causing the cost you have to pay for repair to double.
Where To Get Auto Hail Damage Repair In Minnesota
Now that you've made a claim with your insurance for the hail damage to your car and you need a professional paintless dent repair shop to fix all those hail dents, you can now contact us at Excel Dent Removal to schedule an appointment for a repair date.
We are auto hail damage repair experts and we can handle the entire process for you. All you need to do is supply us with the insurance claim number. We will take care of dealing with the insurance adjusters to make sure that everything is repaired correctly and that the cost to repair the hail is covered by your insurance company.