The first thing I want to share about paintless dent removal is that it is NOT just a simple one-step process with just one PDR special tool that is used to pop out a dent and that most dents and body damage are different, so the cost to remove each auto body dent is going to be different.
The methods used to remove dents with the paintless dent repair process require a set of skills and specialized tools from an experienced technician to achieve high-quality results for each dent so that the factory paint is not disturbed.
So, since most types of dents are different and the repair process to remove them will be different, then you can expect the cost of dent repair to range in price.
The average cost for paintless dent repair can often be from one hundred dollars to one thousand dollars for average door dings and minor dents. And larger dents or more complex damage and cars with additional dents per panel can cost even more.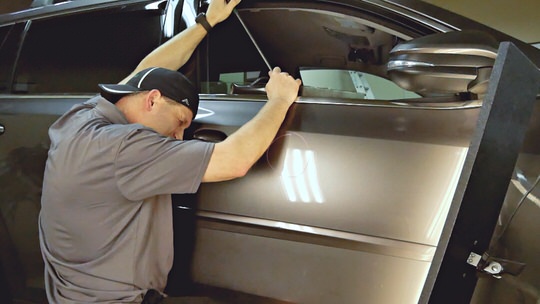 If you have a minor dent or larger damage to your vehicle, then often it is best to make an insurance claim with your auto insurance company for the repair since the cost may exceed your deductible.
✅ USE OUR PDR COST CALCULATOR TO FIND THE COST TO REPAIR YOUR DENT ✅
How To Calculate a Dent Repair Cost Estimate
There are three common ways that a professional paintless dent repair shop will use to come up with the estimated cost for dent repair of the damage to your vehicle.
Using Dent Estimate Software
The first option would be the use of dent estimate software. This specialized PDR Pricing software can be on a mobile device like a phone or tablet or on a computer. Just by simply adding in the info about the damage to the car, the dent repair estimate is calculated.
In just a minute I will share with you the info that is required about the auto dent damage and how it is used for an accurate dent removal estimate.
We use an auto reconditioning app to estimate the cost of paintless dent repair. You can see the MTRX software here:
➡️ https://www.mobiletechrx.com/?grsf=gfcpl3
Using a Dent Price Guide
The second way an auto body shop or dent removal company might estimate your car is with a dent price guide or pricing matrix. This guide is used to measure the size of the damaged area which can give a cost of dent repair. Then some additional factors are added based on how complex the repair will be.
Using a Visual Inspection
The third common way of estimating the cost of paintless dent repair is just by simply looking at the level of damage. This can be done in person or even from a photo sent via text or email. This method often is just a price range and not a complete estimate until further inspection of the damage can be done.
Now don't just think that because the PDR tech is giving a price without using a guide or software, they are just throwing out a random cost. Often an experienced technician that has seen a wide variety of dents can base the estimate off of those previous repairs or they often have the PDR price guide memorized and can make the calculations to determine the cost of your vehicle dent repair.
Determining The Cost Of Paintless Dent Repair
So you might be wondering what the cost of repairs is to have the damage in your car fixed. Well, I can show you some of the formulas that we use to estimate the cost of paintless dent removal.
Measure The Size of the Dent
The first thing that we look at is the size of the dent. The dent size is important because the larger the dent is the longer it will take to remove. When looking at the size of the dent, we want to know the total extent of the dent damage. Often the damaged area extends out past the visible impact point and deepest part of the dent.
The most common price estimate based just on the size of the dent will often start at one hundred dollars and then an average of fifty dollars is added per inch in size of the damaged area.
So a typical door ding that is one inch in size or no bigger than a US quarter would start at one hundred fifty dollars. A dent that is up to two inches in size would start at two hundred dollars and a three-inch dent that is smaller than the long side of a credit card would start at two-fifty. Then with each inch in size, we continue to add an average of fifty dollars.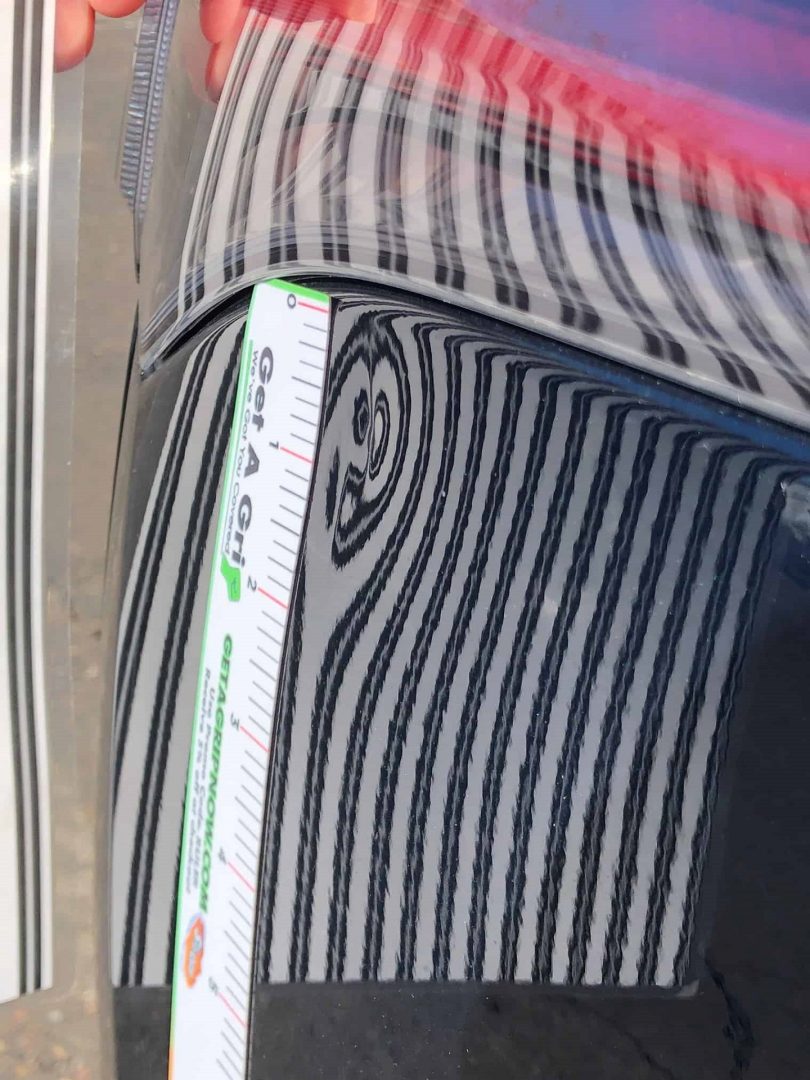 PDR Pricing Guide
PDR Pricing Guide for Door Dings and Minor Dents up to 6 Inches in size.
This Dent Repair Price Guide will help give you an idea of the average PDR Cost for small dings and dents in your car.
Additional factors and any removal of parts for access can increase the cost above these prices.
See more information about these additional factors below.
You can also try out the PDR Cost Estimator to find the average price of your vehicle damage.
The Most Common Factors That Affect How Much Paintless Dent Removal Costs
Now that we have our base estimated cost we then will add additional costs or percentages to the base price based on how complex the damage will be to repair.
There are several things on most modern types of vehicles that make repairing with paintless dent removal a much more complicated repair.
Factors That Affect the Cost For Paintless Dent Repair
Just a few of these additional factors that each can add from ten percent to fifty percent to the base cost might include:
The depth of the dent. A Deeper dent or a deep door ding is harder to remove and adds to the time needed for a high-quality repair. Sometimes a depth gauge is used to measure how deep the dents are.
Panels that are made from aluminum instead of steel material
Panels that use a high strength steel material
Location of damage on the panel. Areas on the vehicle that have limited access for normal PDR tools will add additional time.
The use of glue pulling out the dent. This method can take longer to repair a dent than using other PDR tools with good access and also requires additional materials used to repair the dent.
If the dent is a crease and not a typical round dent. Then this can add to the cost because of the difficulty and time needed in removing a crease.
Dents in the body lines of the car are much more difficult to repair and the extra time involved to properly repair this area over a dent being in a flat part of the car will increase the cost
Even dents on the edge of a panel can take extra time because of the limited access and being a more rigid area to remove the dent.
There are a few other factors that can increase the estimated cost for paintless dent repair. A full inspection during the estimate process will find these areas and will be calculated into the full estimate.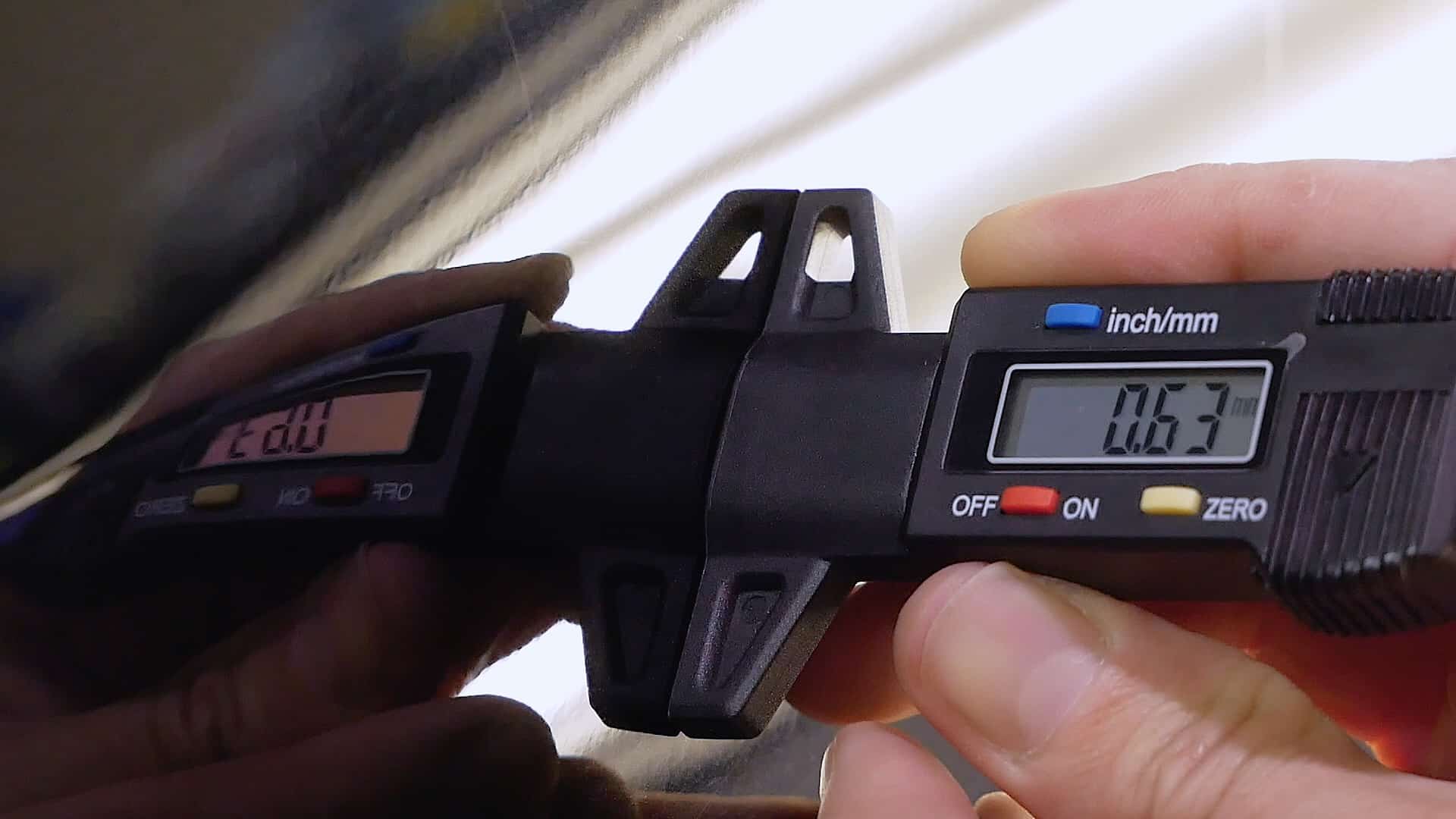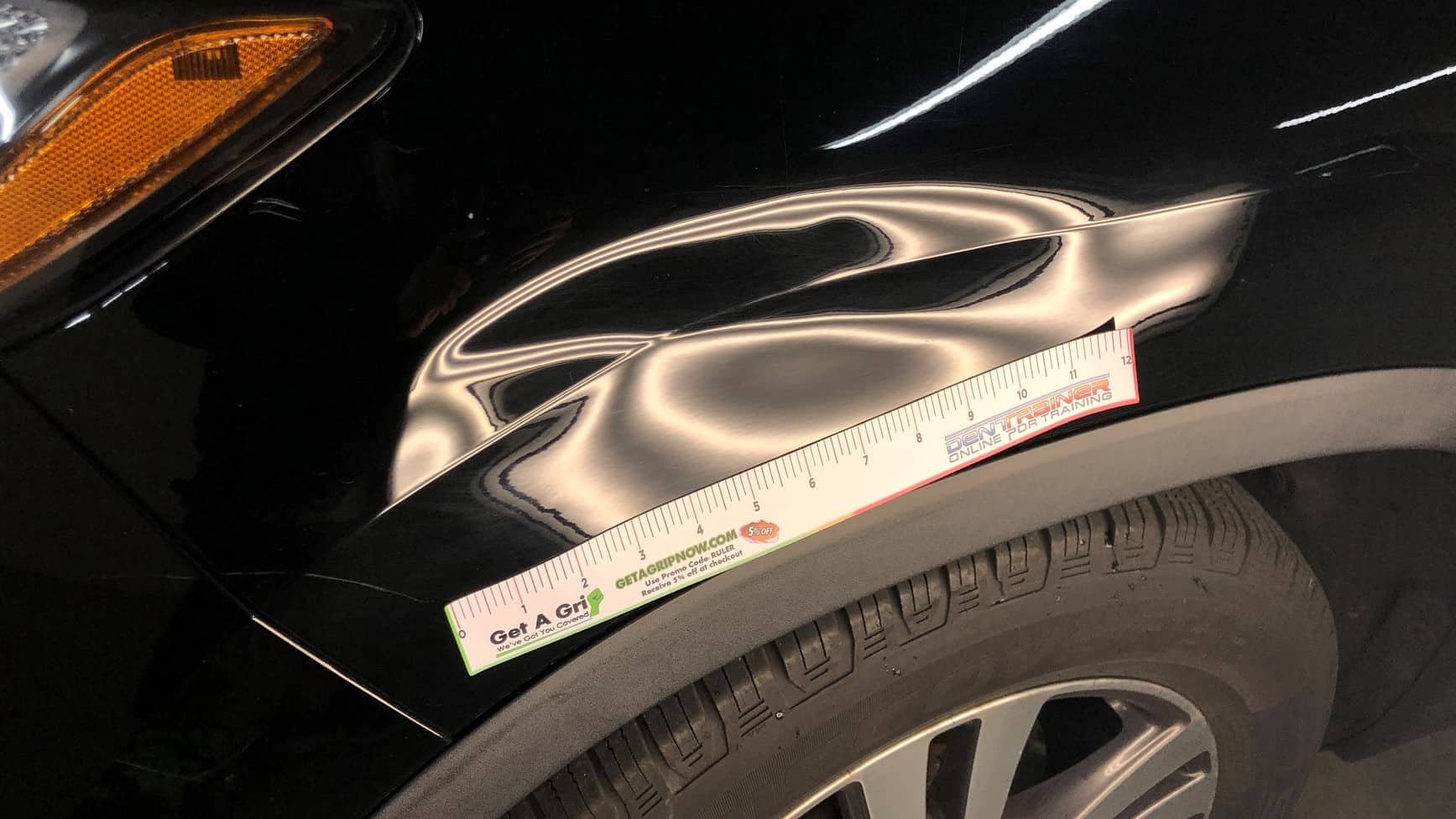 Costs To Remove Parts or Trim For Access
Now that we have the cost to repair the dent in your vehicle, we then look at what might be needed to be removed to gain access to the back of the panel for proper paintless dent removal.
This is what we call R and I or remove and install. This is when a part is removed or detached from the vehicle, then after the paintless dent repair is performed, the parts are put back onto the vehicle.
For average door dings and minor dents in a car, the most common parts that will be removed are:
Headlights
Tail Lights
Front fender liners
Interior door panel trim
Interior rear quarter panel trim
For damage to the top panels of the car including the hood, roof, and the trunk we would include removing the hood pad, the headliner for access to the roof panel, and the interior trim of the deck lid or rear gate of an SUV or van.
When there is more complex damage or multiple dents from hail damage, then often body panels will be removed from the car and mounted on a professional stand to properly repair the dents. Most often the hood and trunk will be removed and also removing a door may be needed. This can include even removing the liftgate on an SUV or van when repairing hail damage.
There can be other parts that need to be removed or if they were already damaged, then they would be replaced. You can just ask about this at the time of your vehicle inspection.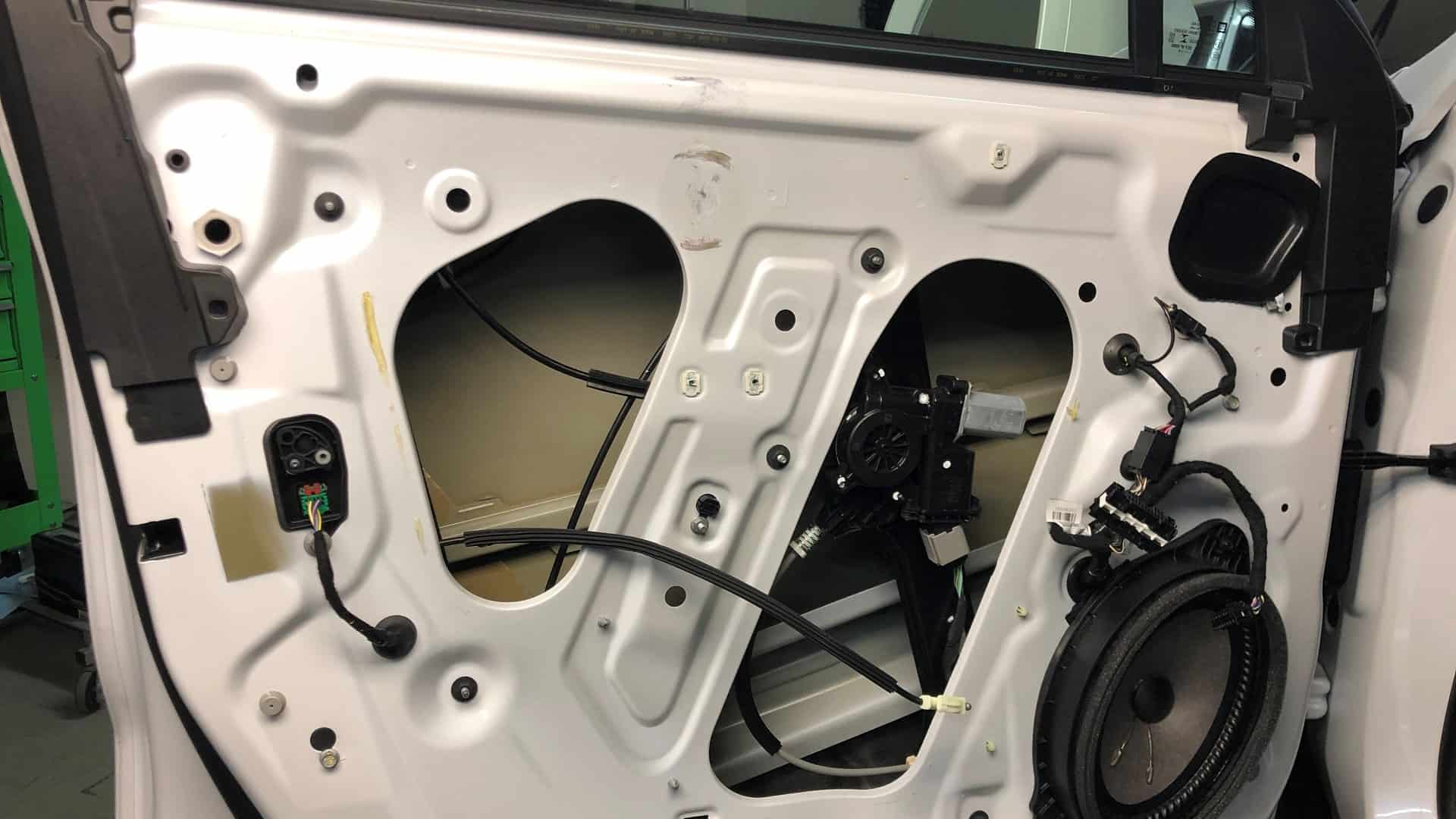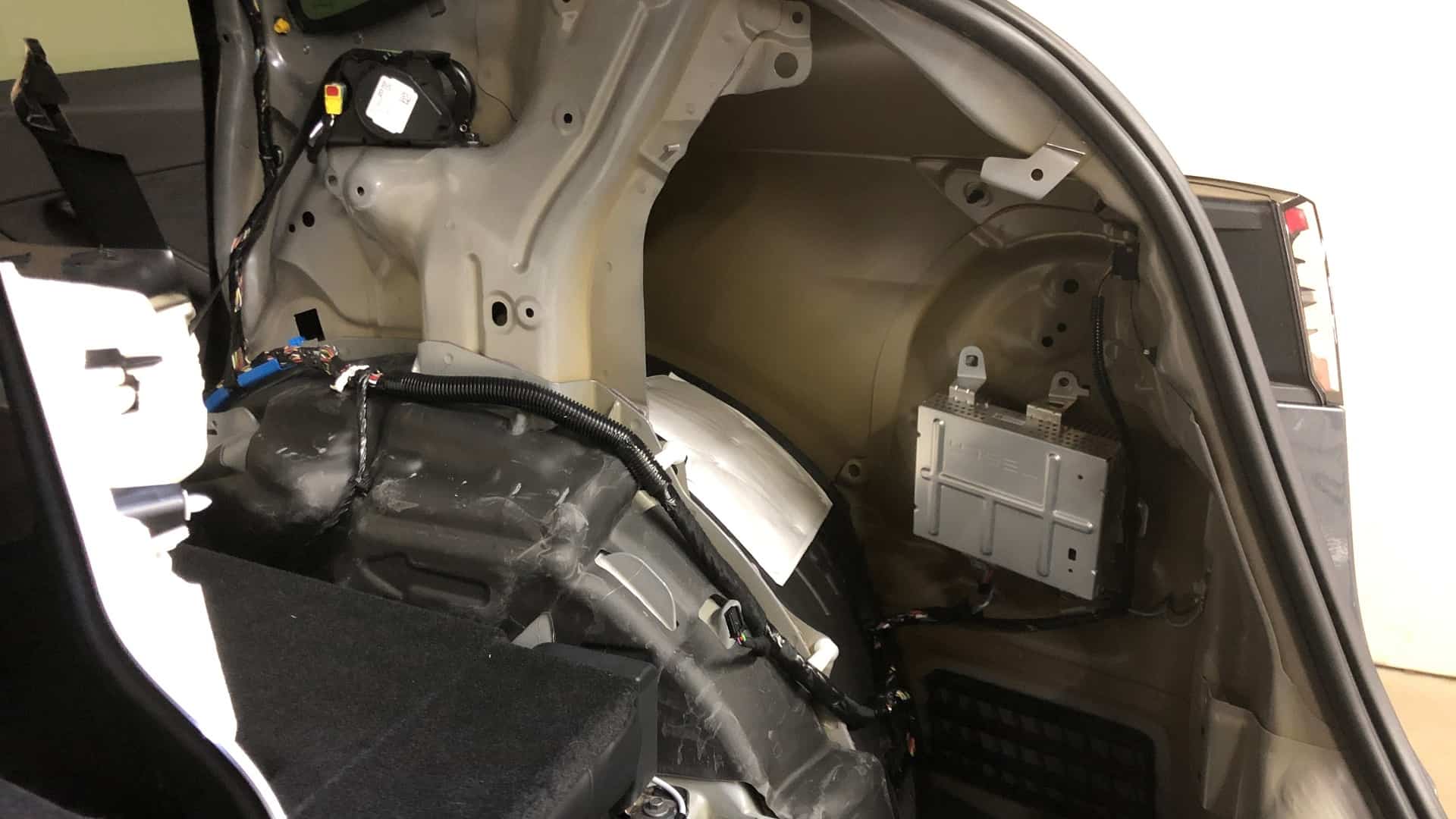 Having a Professional Inspection To Find the Cost For Dent Repair
So now you have seen all that goes into finding the cost of paintless dent repair. And it may all seem so complex. But it is nowhere near as complicated as actually doing the dent repair and having the proper PDR tools needed for the best possible paintless dent removal.
So after your vehicle inspection, we take all this information and it is either calculated within the PDR estimating software or done by hand to give you a complete and accurate paintless dent removal estimate for the dents in your car.
Now if you'd like, you can take this information I have provided for you today and come up with a rough price to have your dent repaired. Of course for a more accurate estimate, it's always best to have your vehicle inspected by a professional paintless dent repair shop. They will be able to not only give you the accurate cost but also will know the best way to repair your dent. Even if the best way is to recommend an auto body shop because paintless dent repair may not be possible for your damage or because of paint damage to your car that will require repainting.
You can also visit this link so that you can use our paintless dent repair cost calculator to get an online estimate. This dent damage repair costs guide will give you the average price range for paintless dent removal.
https://www.exceldentremoval.com/dent-repair-cost-estimator/